Swedish Lapland
Swedish Lapland is the ultimate winter wonderland, with its pristine landscapes of frozen lakes and snow-covered forests. Enjoy hand-picked accommodation in the heart of the wilderness, combining relaxation, comfort and fine dining, as well as a wide choice of activities and experiences.
Whether you prefer the adrenalin rush of snowmobiling or mastering the skill of husky sledding, ice sculpting, cross-country skiing or snowshoeing, there's plenty to do and see. Plus, the clear night skies and lack of light pollution ensure the best chances for aurora sightings.
Package inclusions:
Private jet flights to Luleå and private transfers by car or helicopter
The number of nights and accommodation options will be tailored to your requirements
Option to combine different accommodation types from a luxury lodge to a unique treehotel, floating spa and a traditional Sapmi forest camp to the ultimate ICEHOTEL
A choice of private dinner experiences, activities and excursions.
The following accommodation options can be combined for any number of nights. Private transfers will be either by car or helicopter. Build your dream holiday, staying exactly where you want, and undertaking the excursions ideal for you and your fellow travellers.
Arctic Retreat
Situated just over an hour away from Luleå in the southern part of Swedish Lapland, Arctic Retreat has a beautiful wilderness location next to the river and set amongst the forest. With just four separate log cabins, it's an intimate and very special place to stay. Created by a local family, your hosts are Liza and Niklas, who will make sure that you have a warm and genuine experience with a high level of personal service throughout your stay.
Each log cabin has a log burner. Three cabins also have a private outdoor Jacuzzi and all guests have access to a sauna, outdoor campfire area. Your stay is full board, with a wholesome three-course dinner in the evenings. All meals are provided according to a set menu, with options to meet dietary requirements.
The retreat suits couples, families and private groups – the cabins can be booked individually or the whole retreat can be booked for exclusive stays.
Individual cabin details:
Log Cabins Sun, Wind and Water are newly built at the edge of the river. They have floor-to-ceiling windows facing the north for aurora watching, loft bedrooms with a double bed and additional bedding downstairs for one or two people, private outdoor Jacuzzi, bathroom with shower, log burner, tea/coffee making facilities and use of a wood-fired sauna in a separate building.
The Timber Cutter's Cabin is an older log cabin renovated in cosy Swedish style, with panoramic windows facing the river, bathroom with shower, log burner with wood, tea/coffee making facilities and use of a wood-fired sauna in a separate building. It has a loft bedroom with a double bed and two single beds.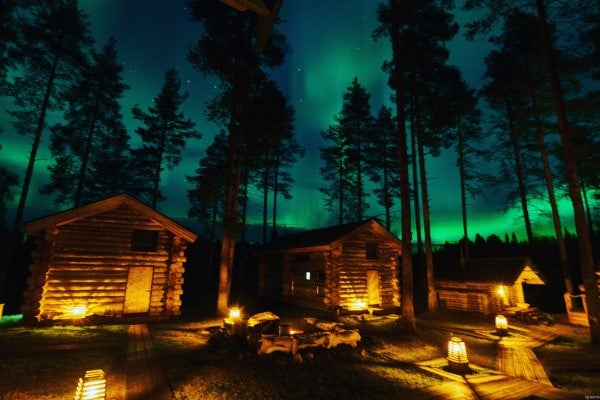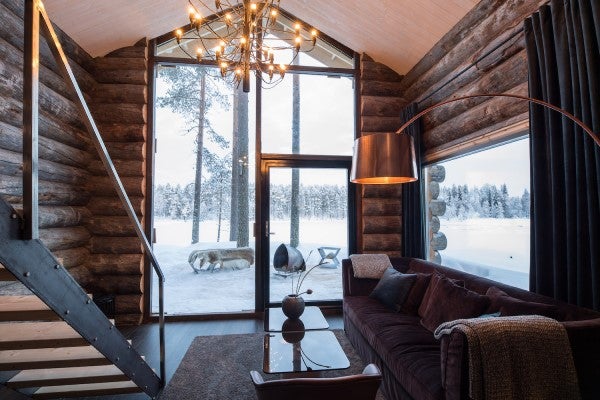 Logger's Lodge
Situated in the middle of the forest, far away from light pollution, Logger's Lodge is a private eco-luxury wilderness lodge for two in an ideal location for viewing the northern lights. The clean air and total silence of the surrounding area make this a perfect spot for deep relaxation. A wood-fired sauna and outdoor hot tub are available for your private use at any time, day or night.
In the 1940s, logger's cabins were built in strategic positions close to rivers and streams, to house the loggers who worked with the timber. Today Logger's Lodge has been carefully renovated to create a romantic luxury suite for two. The exterior timber logs are painted in the Swedish traditional falu red paint and the pine interior walls are burnt to emphasise the beautiful pattern in the wood. The Bodträskå stream that floated the timber is just a stone's throw away from the lodge.
Inside, the lodge is open plan with a very large fireplace taking centre stage, casting a warm glow around the interior and warming it up for a cosy and welcoming atmosphere away from the Arctic conditions outside. There's a king-size double bed, easy chairs to relax in, a table and chairs where your meals are presented (having been customised to your own requirements), coffee and tea at your disposal, home-baked pastries fresh every day, a Sonos Playbar for your favourite sounds and Wi-Fi connection to stay in contact with the outside world.
Using ingredients traditional to Swedish Lapland, your private chef will serve organic, gourmet meals directly to your table in the lodge. There is a minibar with a selection of beer, wine and healthy drinks. If you need anything during your stay, the lodge is also equipped with an iPad so that you can send a message to your host who will be happy to assist you.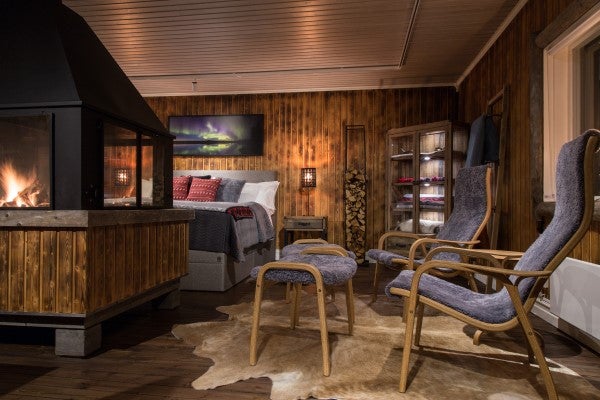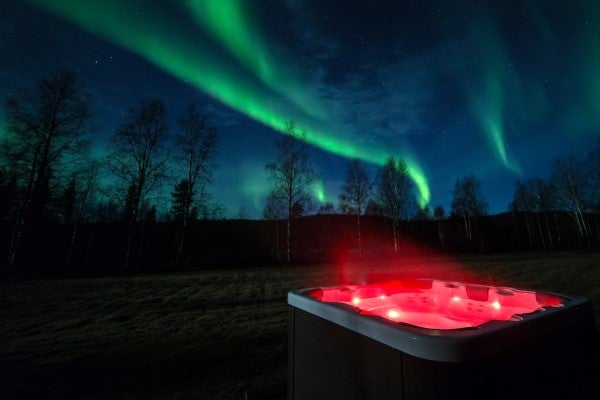 The Treehotel
The Treehotel is a special hotel experience situated outside the small village of Harads, an hour's drive northwest of Luleå and just 60km south of the Arctic Circle in Swedish Lapland.
It offers seven different room options, all individually designed by Scandinavia's leading architects with contemporary design and chic interiors. Here you can get away from everyday life and enjoy the peaceful environment in the middle of unspoilt nature. It's a great opportunity for aurora searching in the winter.
Spending the night in a room suspended several metres above the ground really makes you feel part of nature. You'll feel totally safe as you relax in the modern and stylish rooms with their home comforts including Wi-Fi and coffee machines.
On arrival at the Treehotel, you first check in at Britta's Guesthouse nearby. It's then a short walk through the beautiful forest to your elevated room, accessed by a ramp, bridge or retractable ladder. The treetop rooms are individually named and vary in size and theme, some taking extra beds for larger parties and families and some with lovely views over the Lule River valley. All have environmentally-friendly toilets and washbasins. Shower facilities are available at the Forest Sauna nearby, except if you're staying in the 7th Room (opened in December 2016) which has its very own shower facilities.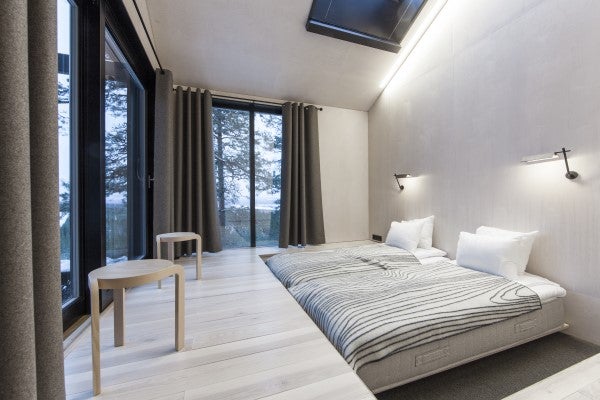 Arctic Bath
The Arctic Bath is an extraordinary new floating spa hotel located on Lule River near the small village of Harads in Swedish Lapland. Built on the water, the hotel floats during summer and freezes into the ice during winter, embracing the region's seasonality.
The brainchild of the team behind the nearby Treehotel, this 12-room hotel has been designed by architects Bertil Harström and Johan Kauppi and aims to harness the extreme Arctic seasons. Constructed using local materials and with very little impact on the environment, the circular design of the main building is centred around an open-air plunge pool.
The main building is accessed by a walkway and houses the restaurant, lounge bar, four saunas, the spa treatment room, changing rooms and a small shop. The wellness centre offers massage, hot stone treatments, cleansing, detox and relaxation. A hot bath is available for soothing muscles between bracing cold dips in the plunge pool.
Floating cabins
A short distance from the main building and on the water's edge is a flotilla of six floating cabins offering Scandi-chic interiors with double bed, shower room, underfloor heating and an exterior wooden deck – ideal for basking under the summer sun or keeping watch for the northern lights.
Land cabins
There are also six more elevated cabins built on the tree-lined shore. Featuring a spiral staircase up to the loft room, these cabins have five beds, a bathroom and underfloor heating.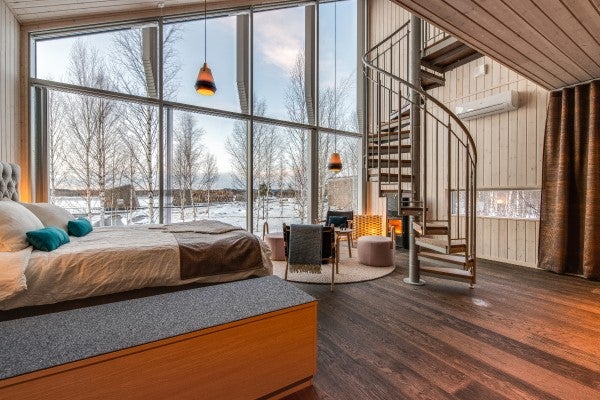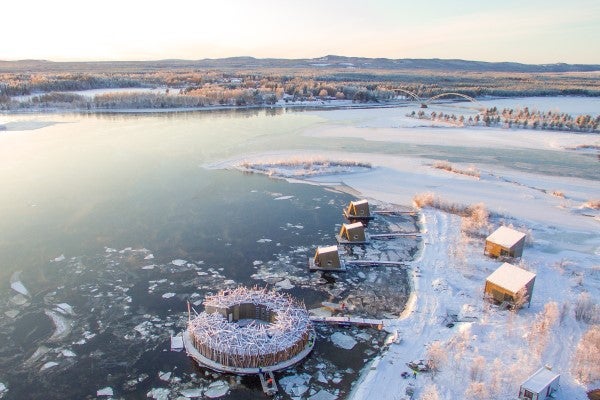 Sapmi Nature Camp
Located 40 minutes from Gällivare and in the Laponia World Heritage site, Sapmi Nature Camp offers a unique Sami glamping experience. Your hosts, Lennart Pittja and his family, from the Unna Tjerusj Sami community invite you to experience their traditional hospitality. Learn about reindeer herding and master some of the Arctic bush craft skills that the Sami people have passed from one generation to another. The life of a Sami evolves through eight seasons of the year by observing and harvesting from nature. Close to the camp you will find an archaeological site with findings from Sami history, old fireplaces, signs of old Sami houses and pine tree bark harvesting.
The camp has five lavvus (traditional Sami dwellings) that can accommodate two people in each, with comfortable beds and a log burner to keep the tents warm. In a separate building you will find the cosy lounge with an open fireplace, perfect for relaxing and enjoying the home-cooked meals prepared from local ingredients, such as reindeer, fish, berries and herbs. Toilet facilities are in another smaller cabin and there is a sauna hut on site. Full board is included throughout your stay.
In addition to your own warm winter clothing, further outdoor gear will be provided for the colder days. Traditional wooden skis and snow shoes are available for you to use on the pre-prepared tracks around the camp.
Sapmi Nature was the winner of Grand Travel Award for best Swedish Ecotourism 2019. Sapmi Nature Camp was selected as one of the 27 best new 'hotels' in the world according to AFAR Media.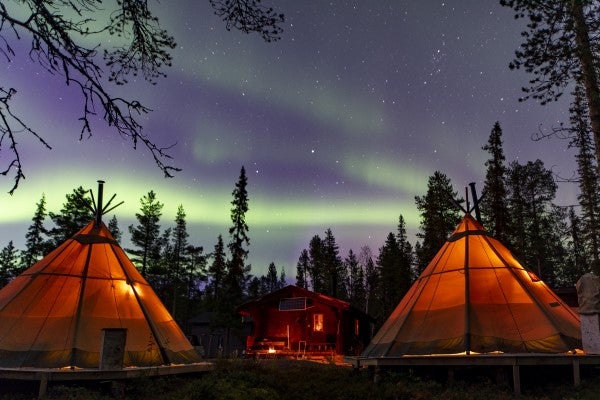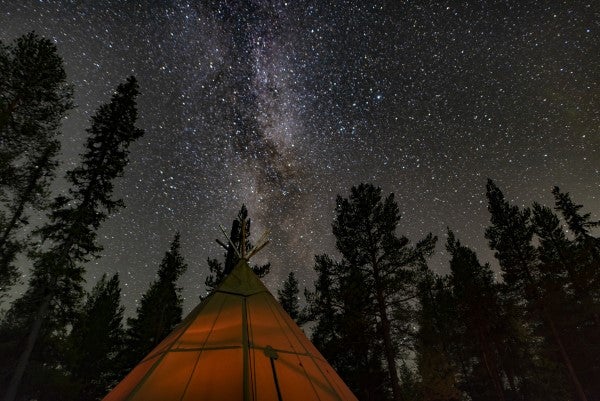 ICEHOTEL
Winter 2020-21 celebrates the 31st incarnation of the ICEHOTEL and this inspiring and cool hotel has to be seen to be believed! Combining engineering know-how with supreme design flare, it is created each winter then left to melt back into the River Torne in late April.
Alongside the dedicated winter hotel, there's the permanent ICEHOTEL 365 housing the spectacular Icebar. Nearby heated buildings complete the experience. Staying at the ICEHOTEL combines conventional comfort with the intriguing concept of 'sleeping on ice'. Sleeping on ice is far more comfortable than it may sound, as you are sleeping surrounded by ice rather than on it. Many people find the silence and cool fresh air coupled with the cosy thermal sleeping bag provided gives the best nights' sleep they have ever had. The Deluxe Ice Suites are individually designed with ice art and furniture. They have a heated area with seating, sauna, shower and toilet. Some also have a bathtub.
From the moment you step inside the door, you'll understand why this hotel is famous around the world. From its hallways lined with ice art and glittering chandeliers to the atmospheric ice bar, you'll be captivated by the magical atmosphere. There are also many warm areas at the ICEHOTEL. The Lounge Bar is located in the main reception building, and across the road you'll find the ICEHOTEL Restaurant serving mouth-watering meals including the famous Ice Menu and Chef's Table.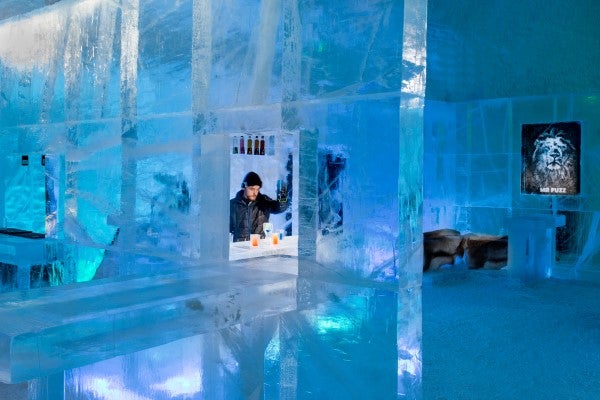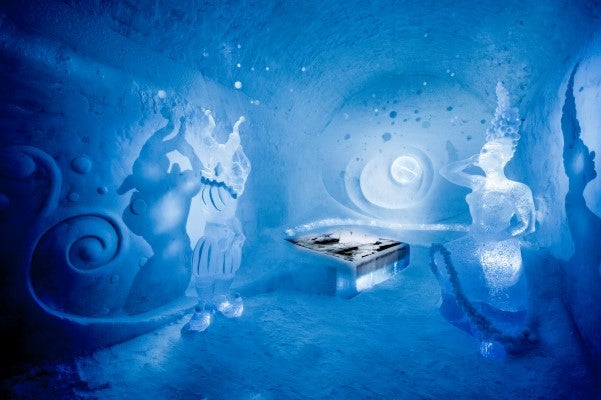 Private Experiences and Excursions
Private excursions can be arranged at each location and include:
Husky Sled Tour
Sit back on the sledge and enjoy the beautiful winter wonderland or drive your own team of huskies through the snowy arctic landscape. Choose the length of your trip from a short one-hour ride to a longer experience which includes a wilderness dinner under the stars and, with a bit of luck, the magical northern lights. For the ultimate adventure, stay overnight in a wilderness cabin and enjoy two days of husky sledding.
Snowmobiling
Take an exhilarating drive on frozen lakes and forest paths, stopping for a Swedish Fika, coffee and cake by the campfire. Choose the length of your trip, from a short introductory ride to a longer trip deep into the wilderness, perhaps with a dinner by a campfire and under the night sky. You can choose to share your snowmobile or have the machine to yourself.
Cross Country Skiing
After being kitted out with winter clothing and cross-country skis, head through the forest looking for wildlife tracks, learning about the boreal forests of the Arctic region and enjoy the spectacular landscapes. During the tour, enjoy some Swedish Fika, coffee and cake by the campfire.
Ice Fishing
Try winter fishing while relaxing on the frozen lake with beautiful nature all around you. Drill a hole in the thick ice, set down your lure and sit back to enjoy the beautiful landscape around you. If you catch a fish big enough, your chef will prepare it for your dinner.
Photography
Whether it's the Arctic landscape or the northern lights that you would like to capture with your camera, a professional photographer will be on hand to teach you and assist with the best technique.
Dining on Ice or the Wilderness
Enjoying a special three-course dinner out in the wilderness, under the stars – and hopefully the northern lights – is an experience not to be missed. Depending on where you are staying, this can be arranged at one of the snowy forest camps or even on an ice-covered lake in the comfort of a tepee heated by a campfire.
Arctic Bath Spa Treatments
Choose from a spa ritual to a massage, facial or total head-to-toe pampering experience.
ICEHOTEL Activities
In addition to the activities above, at the ICEHOTEL it is also possible to have a sauna experience with a 10-step ritual, which includes an ice plunge and outdoor hot tub. Ice Sculpting is another fun activity which often reveals hidden artistic skills. You can also book a private evening with the ICEHOTEL chef, who will prepare an exquisite eight-course tasting menu while telling you all about the ingredients and where they are sourced from.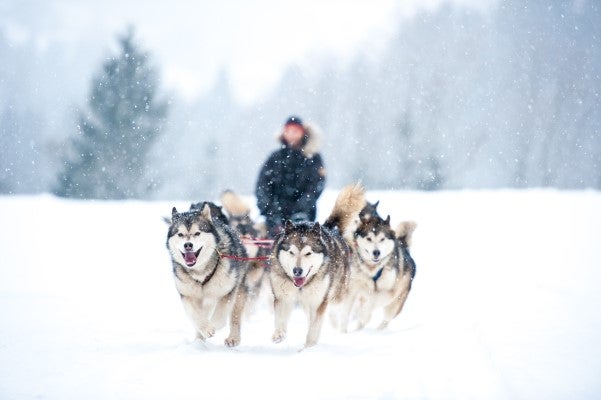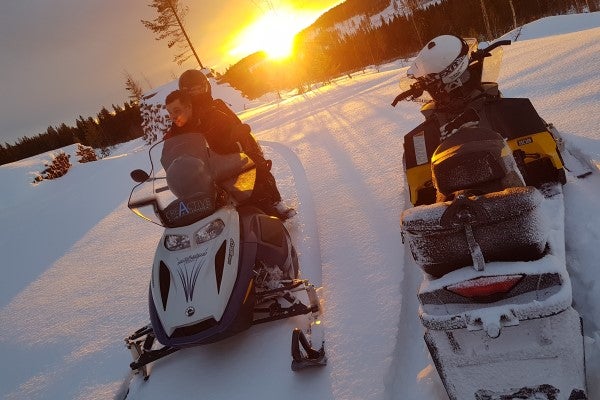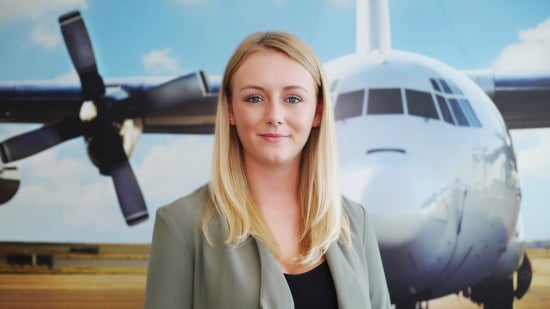 CONTACT US
To book a villa and private jet service, contact our Travel & Concierge team on 020 8335 1070, or send an email to travel@aircharter.co.uk.