Travel To The Palio Di Siena By Private Jet Charter
The Palio di Siena is a thrilling vestige of medieval Tuscany that still lives on. We can arrange your private jet charter there, helping you choose from a range of popular private planes that suit your needs whether travelling for business or for leisure.
If you require a larger aircraft for a group charter, we have extensive experience in arranging commercial-sized planes for bigger groups. Our dedicated Charter Concepts team can even personalise your charter, either before departure or whilst on board the aircraft.
About the Palio di Siena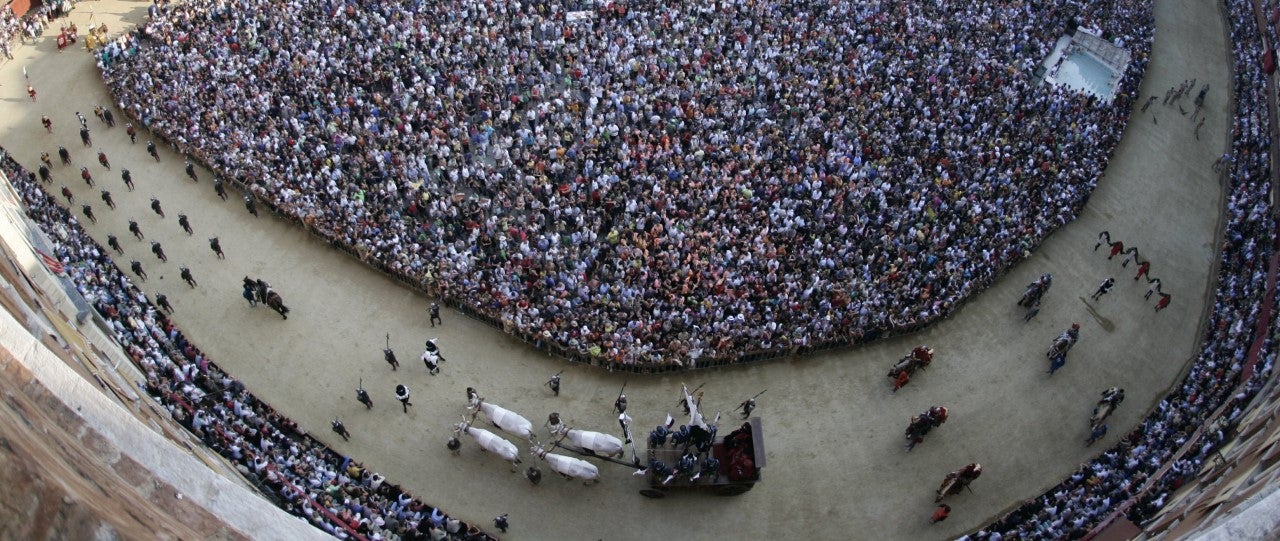 The Palio di Siena takes place twice a year: once in July in honour of the Madonna of Provenzano and again in August to commemorate the Assumption of Virgin Mary. Around 60,000 spectators pack into Siena's red-bricked Piazza del Campo on race day, watching either from the middle of the square or on bleachers surrounding the track. A lucky few take in the action from the balconies of opulent homes overlooking the piazza.
The race is a fierce competition between Siena's historic neighbourhoods, or "contrade". The areas' centuries-old rivalries are still deeply entrenched in local life, with marrying outside one's contrada dubbed a "mixed marriage" and such couples commonly separating in the days leading up to the Palio.
Each race includes 10 of the 17 contrade: seven who didn't compete in the previous race and an additional three who are drawn in a lottery. Dirt is packed onto the square's brick floor to create the track and mattresses line the walls, but this is a dangerous competition – the bareback jockeys are often thrown off and a riderless horse can still be crowned the winner. The race is over in about a minute, but the contrada pride lasts all year long.
Instead of jostling with crowds on the train or sitting in traffic, book a private jet charter directly to Siena Ampugnano Airport, a private jet airport just 15km from the Piazza del Campo. We can have a chauffeur waiting on the tarmac to whisk you straight to your hotel. Contact one of our dedicated account managers for a personalised quote.