Skip to content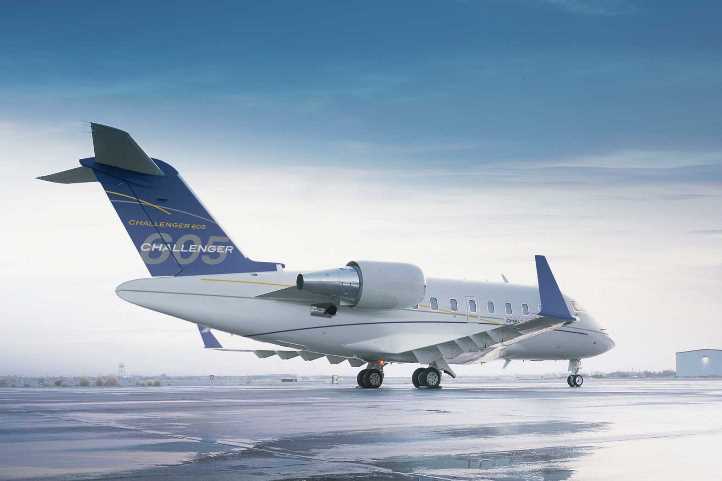 ABOUT THIS AIRCRAFT
The Challenger 605 was introduced in early 2006 as an avionics and structural upgrade of the 604 design. It maintains all the features that make the Challenger 604 exceptional, while adding structural improvements such as larger cabin windows and a rounded tail cone. Innovative updates to the modern flight deck and cockpit instrumentation further enhance the performance capabilities of the Challenger 605.
Interior design
Long-duration flights require ample space for both passengers and storage. With generous cabin measurements, an optimized Ethernet-based management system, larger video monitors and an upgraded galley area, the Challenger 605 meets the desires of both business and leisure travelers.
A walk-about cabin, afforded by a widened fuselage, differentiates the Challenger from earlier aircraft in its class. Two seating sections are located between a forward gallery and aft lavatory. With a typical configuration of a four-chair club section and conference grouping or divans, the Challenger 605 carries up to 12 passengers in exceptional comfort, making it an ideal environment for business, relaxation and entertainment.
Passenger comfort is maximized by important enhancements to the already spacious cabin. As well as cabin volume, passengers enjoy additional head room and a new window design that provides an optimal viewing angle and plenty of natural light.
Business travelers enjoy ergonomically-designed work areas, and high-speed connectivity for emailing and web browsing, facilitated by a digital, Ethernet-based electronics system. The system includes touch-screen controls, also found in the galley, where design updates optimize storage capacity.
Technological features
With a maximum flight range of 4,598 miles, at a cruise speed of up to 540 miles per hour, the Bombardier business aircraft can cross oceans and continental distances with ease and efficiency. Two General Electric CF34-3B engines, which each produces 8,729 lbs of thrust, give this long-range business jet the same outstanding performance as the 604.
The Bombardier Challenger was one of the first business aircraft to be designed with a supercritical wing. Supercritical wings are designed to overcome wave drag, which occurs when aircraft fly at or near the speed of sound. Wave drag is caused by shockwaves that form when the air circulating around the aircraft wing reaches Mach 1.
Supercritical airfoils are designed with a flattened upper surface and a downward-curved aft section. Due to the airfoil shape, aircraft such as the Bombardier Challenger 604 and Challenger 605 experience less wave drag at greater speeds. These high-performance wings ensure that the Bombardier Challenger offers outstanding stability at high speeds.
When you've selected the Challenger 604 or 605 for your private air charter, another aspect of its wing design will make it easy to spot your ride on the tarmac. A distinctive double-slotted hinge flap design means the fairings are visible below the wings, a feature more typically associated with commercial aircraft.
Flight deck features of the Challenger 605 include the Rockwell Collins Pro Line avionics suite, which offers pilots instant and intuitive access to critical flight information. It includes as standard equipment the Rockwell Collins Integrated Flight Information System, which allows the aircraft's position to be overlaid on navigation charts, resulting in a significant improvement in situational awareness.
New materials and technologies, along with the new lighter flight deck, reduces the weight of the Challenger 605 jet by 200 lbs from the Challenger 604, giving it more payload flexibility. Among other things, this means that the Challenger 605 matches the range of the Challenger 604, while carrying an extra passenger, for example.
Past and present
When Bombardier launched the Challenger 605 in 2006, no large-category jet available could match its wide stand-up cabin. This was an aircraft that combined the platform and reliability of its predecessor, the Challenger 604 jet, with improved technology and enhanced comfort.
The Challenger 604 was built to meet the needs of discerning leaders in the worlds of business and government, and soon became the backbone of the world's most esteemed corporate fleets. The Challenger 605 built on the reputation of the Challenger 604 as the world's best-selling larger business jet. With the 2006 launch of the Challenger 605, the best value proposition in the large business jet class took yet another step into the future, offering some of the world's most discerning air transportation users an unsurpassed intercontinental business jet travel experience.
The Challenger 605 is recognized as signal of Bombardier's commitment to innovation, and a milestone in the company's ongoing journey towards the future of aviation.
Manufacturer
Bombardier business jets are produced by Bombardier Aerospace, which has shaped private flight for over 50 years. It holds the number one position in business and regional aircraft, and its high-performance aircraft and services set the standard of excellence in several markets, including business jets.
A division of Bombardier Aerospace, Bombardier Business Aircraft prides itself on a forward-looking, innovative spirit. Its portfolio of business jets are the product of strong heritage and innovation. As well as the Challenger series, its leading aircraft families include Global Jets and Learjet.
Bombardier Business Aircraft has over 4,700 aircraft in operation in 115 countries. Bombardier aims to elevate the private jet experience through expert engineering and superior craftsmanship. In addition, its commitment to service and support means access to the highest quality technical support is available at all times from a dedicated worldwide team.
Cost
As of June 2019, the price of a brand new Challenger 605 is $21 million, with a minimum price of $8.8 million for a secondhand 605.
Where to buy
As of 2019, aircraft resale sites controller.com, libertyjet.com, avbuyer.com and globalair.com all had Challenger 605s for sale, with prices from approximately $8 million up to $13 million.
Charter rates
The Bombardier Challenger 605 is an excellent private jet for executive travel. Charter rates vary according to the length of the journey, and which airports you need to fly in and out of.
If you would like to charter this aircraft please visit our private jet charter page or get in touch with our team so that we can help you create your perfect private jet charter experience.
Aircraft layout
AIRCRAFT LAYOUT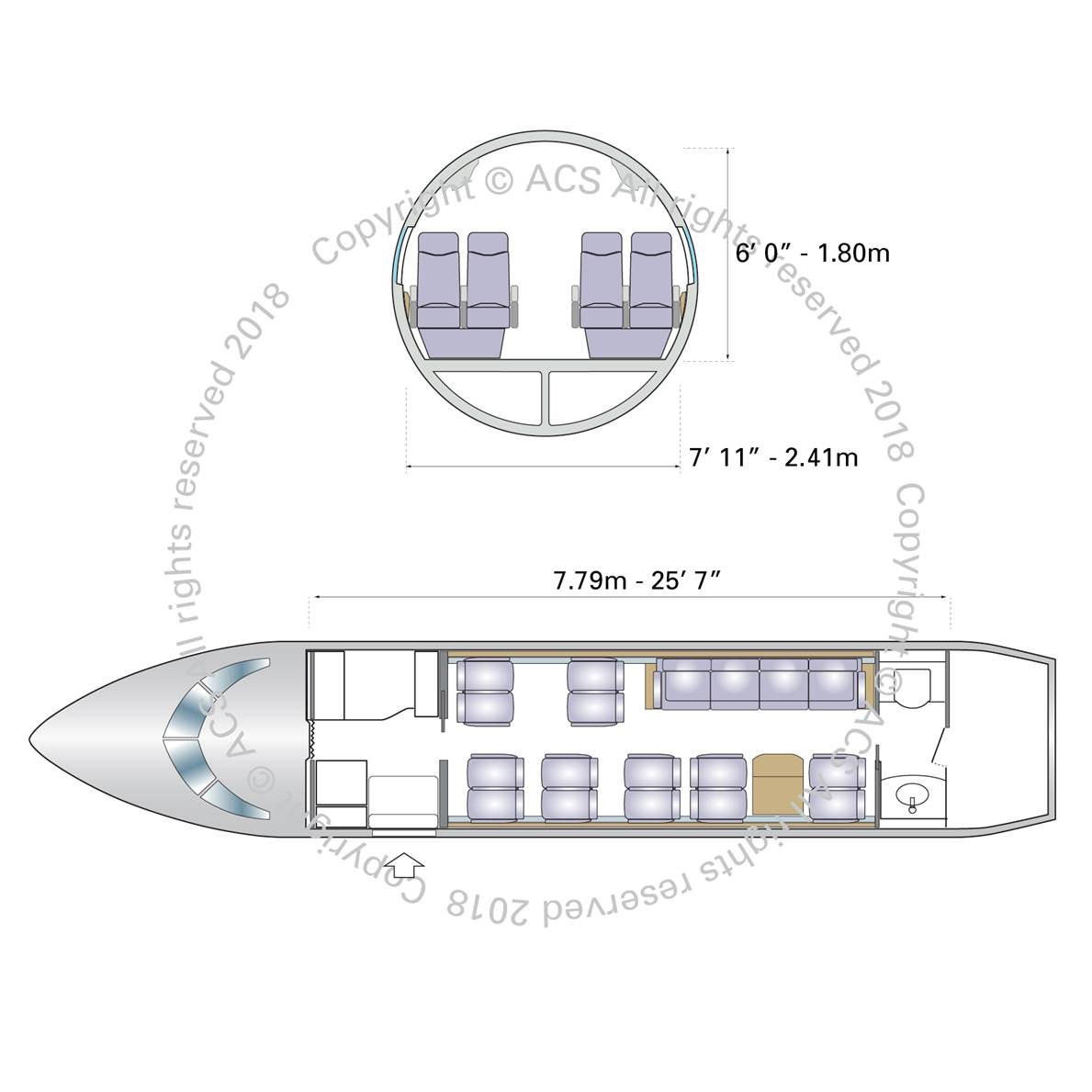 AIRCRAFT IMAGES
SELECT UP TO MORE -
YOUR SELECTED AIRCRAFT ARE READY TO COMPARE
COMPARE NOW
DEDICATED ACCOUNT MANAGERS
NO OBLIGATIONS
25 YEARS EXPERIENCE
AVAILABLE 24/7